This post is part of series on periodizing Mormon settlement in Canada. The polygamy period of settlement happened between 1887 and 1890. It is marked by members of The Church of Jesus Christ of Latter-day Saints seeking refuge from anti-polygamy prosecution in the United States. By the time that Charles Ora Card arrived in Canada, he had been evading United States authorities for months.1 He was once caught and arrested and escaped by jumping from a train.2 Latter-day Saint Church President, John Taylor, supported looking to Canada as a possible refuge from prosecution.3 Taylor was English by birth and had spent several years in Canada before converting to Mormonism and relocating to join the main body of the church in the United States. It may have been his experience living under British rule that led Taylor to feel impressed to direct Card to look for suitable land to settle in Canada. According to Joseph Card, Taylor said, "[he had] always found justice under the British flag."4 In another account he said he thought that "that country would furnish a good refuge for many of our people against whom indictments were formed … [it] would be a good place to take one of your wives to, and make a settlement there."5 In September 1886, Card left for Canada with J. W. Hendricks and Bishop Zundell.6 The group looked at land in British Columbia and around Calgary but ultimately selected a site in Southern Alberta along Lee's Creek to begin a settlement in 1887.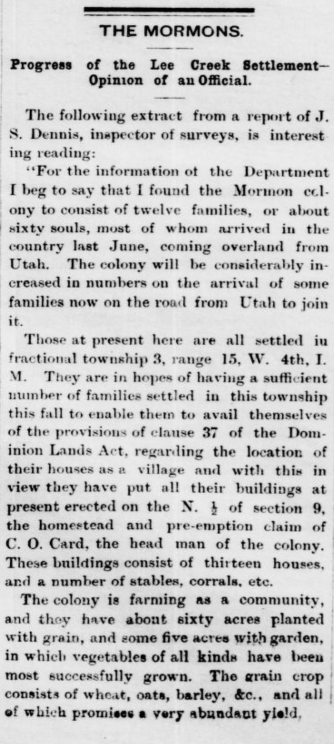 Though Mormon settlers at the time were motivated by what they viewed as unjust prosecution in the United States, their arrival supported the goals of Canadian officials to settle this region. It marked the beginning of a transition from Alberta being a cattle focused economy to one of a more diverse agricultural use.7 Yet, there is little doubt it placed government officials in a difficult spot. In 1888, the Lethbridge News reported on a letter from a government surveyor. The letter both praises the new settlers and cautions against an expansion of Mormon settlement. It says, "While fully realizing that the desire of the Department is to encourage rather than throw obstacles in the way of immigration of good settlers into our Territories, I cannot help feeling that more decisive action should be taken to prevent the growth in this new country of a power, that beginning just in such a small way in the United States, has for years set the law at defiance."8 The official response from the Government was to allow them to settle, but to prohibit them from having or bringing more than one wife in Canada.9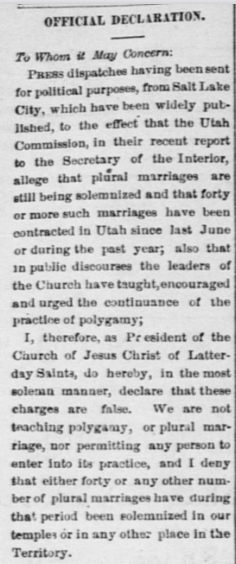 Card seemed to view his time in Canada as temporary. According to A. James Hudson, he only planned to stay until he could return to his home in Utah in "peace and safety."10 By late 1889, new Church President Wilford Woodruff was no longer approving new polygamous marriages. When asked by a reporter about the law against polygamy he said, "We mean to obey it, of course. We have no thought of evading or ignoring this or any other law of the United States."11 As prosecution relaxed, Card visited Utah several times in 1889 and 1890 and met with Church leaders hoping to be allowed to return to Utah, in each case he was directed to continue on his mission in Canada.12 By December 1890, the Latter-day Saint Church had publicly declared an end to forming new polygamous marriages and Card no longer had warrants out for his arrest in Utah, but by then the Church had made his assignment to settle in Canada permanent.13 Card began working to get his Canadian citizenship and by the end of 1890, nearly all of the Mormon settlers in Canada had become naturalized Canadian citizens.14 The Canadian Mormon settlements were no longer a refuge from persecution in the United States and had not become a place for them to legally continue the practice of polygamy, instead, they began to serve new purposes for the church one of providing more land for a growing Latter-day Saint population beyond the Western United States.
---
Featured image.15
---