Over the years I have collected a stack of books and a folder of PDFs about the history of the Mormon communities of Southern Alberta. Some I've read, others I refer to and the rest are on my "to read" list. As I was looking through some files that I recently received, I came across this picture of Cardston taken by the Alberta Railway and Irrigation company in 1900.1 It reminded me about one of those books I've been meaning to read called Picturesque Cardston and Environments.2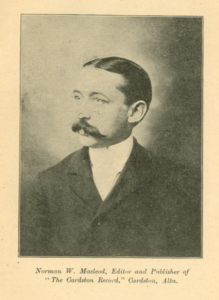 Norman W. McLeod, the editor and publisher of the Cardston Record, put out this 116-page book in 1900. It is essentially a promotional brochure for the region. In it, he talks about the history, growth and the current state of Cardston and the "neighbouring hamlets" of  Aetna, Leavitt, Mountain View, Caldwell, Kimball, Magrath and Stirling. If you have every wanted time travel, here is your method. This book transports you to a time when Cardston was only 13 years old. Stirling and Magrath were mere months into existence. Raymond wouldn't arrive on the scene for another year. It is fairly unique in the historiography because of its proximity to the beginning of all of these communities.
So, what was Cardston like in 1900? McLeod says that by 1900 the pioneer tents and log cabins have given way to comfortable homes. Cardston was the proud home of the two largest stores in Southern Alberta, the Cardston Co. and H. S. Allen & Co. There is a bank, a newspaper and two "first-class hotels." In fact, both hotels were added to in the last year to accommodate the number of visitors and travellers coming through the town. He glows about some of the new construction on its way. Two new drugs stores, a new $5000 amusement hall, a flour mill, a North-West Mounted Police barracks, a post office, immigration building and a planned $25,000 tabernacle.
Cardston, he says, is a fiercely patriotic and religious community, but "with nothing whatever of fanaticism." He says the community has art and culture and that Cardston is the "commercial, financial and ecclesiastical centre of this great commonwealth, which the 'Mormon' people have built up, [it] has forged rapidly ahead and must always maintain supremacy as the chief distributing point for the entire region."
Speaking of the neighbouring hamlets, Aetna he says "must inevitably become great in importance and develop soon into a busy, bustling, populous town." Leavitt is "a flourishing hamlet, and is now taking on more than usual degree of importance." Mountain View is the most populous settlement next to Cardston. Caldwell is home to the only sawmill in the district and the community is filled with "unusual vigor and enterprise." Kimball is a new ward that will "ultimately be formed into distinctive settlements and wards."
In his conclusion, he extends an invitation to all to come to Southern Alberta. He says, "Southern Alberta, in the language of Holy Writ, is 'a land of brooks and waters, of fountains and depths that spring out of valleys and hills; a land wherein though shalt eat bread without scarceness; thou shalt not lack anything in it.' It is the promised land."
Luckily, this book has been preserved digitally and is available in multiple locations online. It was originally printed in 1900 and then reprinted in 1937 to celebrate Cardston's Jubilee year. I found a few places online that offer reprints from digital files of it. This will be a fun read for anyone from Cardston, one of her neighbouring hamlets or interested in Mormon settlement in Southern Alberta.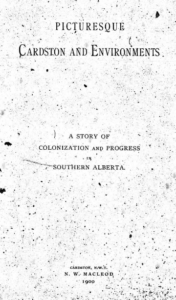 14 Jun 1898-17 Jun 1898. Alberta Railway and Coal Company photographs. [↩]
McLeod NW. Picturesque Cardston and Environments. Cardston: N. W. McLeod; 1900. [↩]